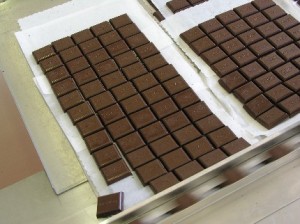 Cioccolato che passione.
Ma le gioie di questo prodotto non si fermano al solo palato. Da qualche tempo la ricerca scientifica sta beatificando le proprietà del cioccolato (e dei suoi derivati) per le qualità antiossidanti che sono emerse da diversi studi.
L'ultimo è stato eseguito in Svezia, prendendo in esame 1.169 uomini e donne non diabetici che erano stati colpiti da un attacco cardiaco. A tutti i pazienti è stato chiesto di compilare un questionario finalizzato a fotografare la loro dieta abituale, lo stile di vita e il consumo di cioccolato negli ultimi dodici mesi. Nei tre mesi successivi alle dimissioni dall'ospedale i ricercatori hanno sottoposto a regolari controlli i pazienti, monitorando la loro vita per gli otto anni successivi.
Ebbene, dopo aver preso in considerazione fattori rilevanti come età, sesso, sedentarietà, fumo e livello di educazione, gli studiosi di Stoccolma hanno concluso che chi consumava più cioccolato viveva di più e meglio.
Come spiegato dagli autori dello studio su The Journal of Internal Medicine, il cioccolato fa bene grazie ai preziosi antiossidanti di cui è ricco. Gli studiosi, però, sottolineano che questi risultati sono il frutto di uno studio osservazionale e che quindi come tutte questo tipo di ricerche va preso con le pinze. Intanto però abbiamo tutti una scusa in più per gustarci un bel pezzo di fondente!